In the north of Italy on the west coast is Liguria with, in my opinion, the most beautiful fishing town of Genova, in German als called Genua. . I studied there for half a year in 2017 and lived with three Italian women. I loved roaming the streets and always discovering new statues and gardens!
The big Springbrunnen auf der Piazza Ferrari Fountane was and is often our meeting place to go shopping or, of course, to eat or drink something. All small streets are distributed around it. The best focaccias with Pesto Genovese (of course!) are in the La Superba (open longest at night). Oft trifft man am Tresen auch einen oder mehrere Polizisten, nicht weil es dort so gefährlich ist, sondern weil dieses kleine Restaurant die besten Snacks und den längsten Mitternachtsimbiss zur Verfügung stellt.
The cheap ones are particularly good for students or travelers with little money Aperitivi popular. If you order a cocktail, you can help yourself to a snack buffet for an additional charge of only 2 euros or you can have three starters delivered to the table. It's almost unbelievable, isn't it?
How is my Italian? Honestly, so-so. When I moved in with the Italians, I learned the language very quickly because my roommates couldn't speak English. Angelica was super welcoming even though we often had no idea what the person was talking to us about. I'm currently learning Portuguese, so I often have a colorful mix of both languages ​​in my head.
I often listen to Italian radio so as not to forget all the vocabulary. For me, music is the best and easiest way to learn a language!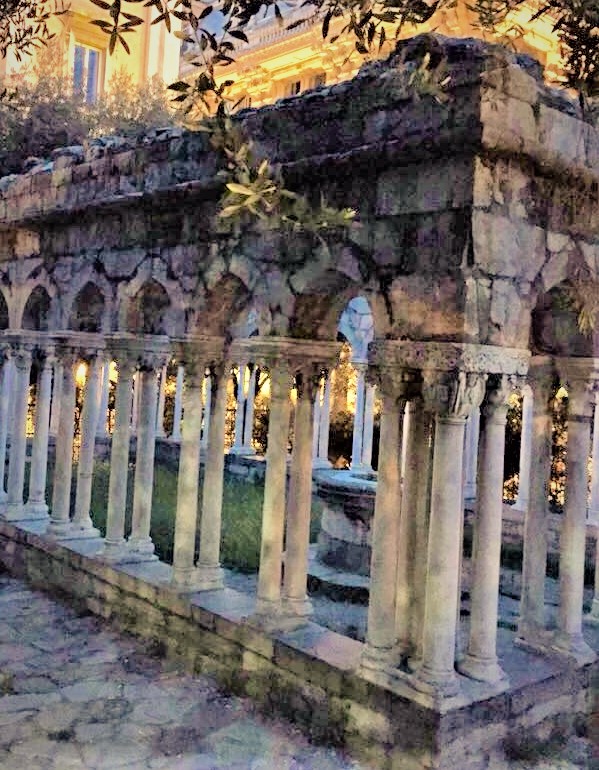 If my Italian teacher Guiseppe reads this, thank you very much for letting me know about Nervi told!! The small fishing village, a suburb of Genoa, has grown particularly dear to me. For 1.50 euros (100-minute ticket) you can go from Genoa to Nervi by train or bus, it only takes about 10 minutes.

I love strolling along the "Passeggiata Anita Garibalda" promenade and having a homemade ice cream at the end of the walk Flavios Gelateria pick up. Also a perfect path for jogging, but better get up early if you want to enjoy the view alone!
Swim in the sea, sunbathe on the stones (unfortunately there is no sandy beach) or at Blue Marlin sit and do some homework for college. Studying could have been worse, even if I didn't always understand everything in the lectures in Italian. Courses were actually supposed to be held in English, but when I was there there were spontaneous changes, so these courses were cancelled. I've been there before, so join the challenge!

In many lectures there was a 5-minute break in between, during which time my fellow students got an espresso or met the lecturer on the balcony to smoke. Conveniently, there is a small terrace next to each lecture hall.

 To this day I still don't understand the room numbers, but all the students have always been very helpful and sometimes insisted on walking with me to the seventh floor.

On the Via Settembre there are boutiques and small cafés, including the Bialetti shop with traditional espresso pots.
Don´t mix up Biglietti = ticket with Bialetti. But well, maybe the train controller will turning s a blind eye when he thinks you're going to invite him for an espresso.
Afraid to miss your flight?

It brings luck if you stroke the walled dog of the Church of San Lorenzo . Afterwards I found 10 euros on the way home, no kidding!
Tip: It´s a very small figure and is located at the foot of a column next to one of the entrance doors.
There are many bars and restaurants all around the Piazza delle Erbe. If you go a bit up the hill, you will find the Bar Giardini Luzzati with affordable prices and live concerts. On the roof there is a soccer field and a green terrace with a special sun lounger.
Next door you can see children playing in the playground in the evening while the parents unpack sandwiches and wine. True Dolce Vita!
The more I write, the stronger I want to go back. "Genova, torno rapidomente" (Genoa, I'll be back soon)!
"Tranquilo", my Italian roommate Angelica would say and pour me the third espresso. Tranquilo means something like keep calm, chill.
A normal hamburgeria or not?
If you say the (weekly changing) password at the counter, you will be led around the corner to a bookshelf, behind which, like Harry Potter, hides a secret passage. When the wall turns, some burger fall out of the hand from normal guest. Follow the waitress down to the basement until you hear music from the 1920s. Tall people should better pull their heads down. Take a seat in one of the antique armchairs and enjoy the atmosphere.
The cocktails start from € 8. Dracula was a regular guest in this stylish cave. So it says the legend, or at least my date, which brought me here.
On the page of Malkovich you can find out the quiz question, the answer is your access password. Just like the name of the bar, questions are asked about old films and Hollywood classics. Sometimes you have to do some research to find out an actor's birthday or the real name. But with the new knowledge you can impress at the next party or at the nex round of Trivial Pursuit.
The best films John Malkovich took part in:
Being John Malkovich
Changeling
The Man in the Iron Mask
... there are 6 other secret bars in Genova. I've already discovered three, do you have a tip where the others are??
I hope you read this section before you went to Malkovich. At Airbnb there are many apartments with colorfully planted roof terraces. Otherwise I can recommend the hostel Victoria House !
What did I learn in this hostel? Apparently you can turn any apartment in Italy into a hostel. My plan B. Small but nice, especially the balcony! New friendships guaranteed.
All good thinks must come to an End
 I could choose between Genoa and Florence. Florence is great, no question about it. But for living I chose the less crowded port city of Genoa. I would make the decision again and would recommend everyone to live there for a few months. The extra pul the sea is just around the corner!

Do you want to go there soon? Let me know!

PS: Der Film"Genova" von Michael Winterbottom gibt dir schon mal einen kleinen Vorgeschmack über den italienischen Sommer in den Gassen von Genua!
The last day in Genova with my 3 best friends and tattoo girl @nefset.

Kaffee, Wein, Eis?

Was verbindest du mit Italien?