An old factory site in Lisbon has been transformed into this creative place, the LX-Factory .
You can get there from the Cais do Sodré in Lisbon (down at the water) in about 15 minutes by tram 15E towards Algés or by bus (732 & 760). In addition to the many cafés and shops, there are often events such as live concerts, work shops and readings ...
When you leave the LX factory you can go 50 meters further towards the river Villagge Discover Underground Lisboa . You can also rent a desk in colorful shipping containers and start your business there or at least study for university. Below is a café with various chairs and sofas.
It is also an interesting and at the same time crazy place Underdogs Gallery. Eintritt variiert je nach Ausstellung. Besonders skurril sind die Werke von @wastedrita. Ich wette, du erkennst dich in einer ihrer Grafiken wieder!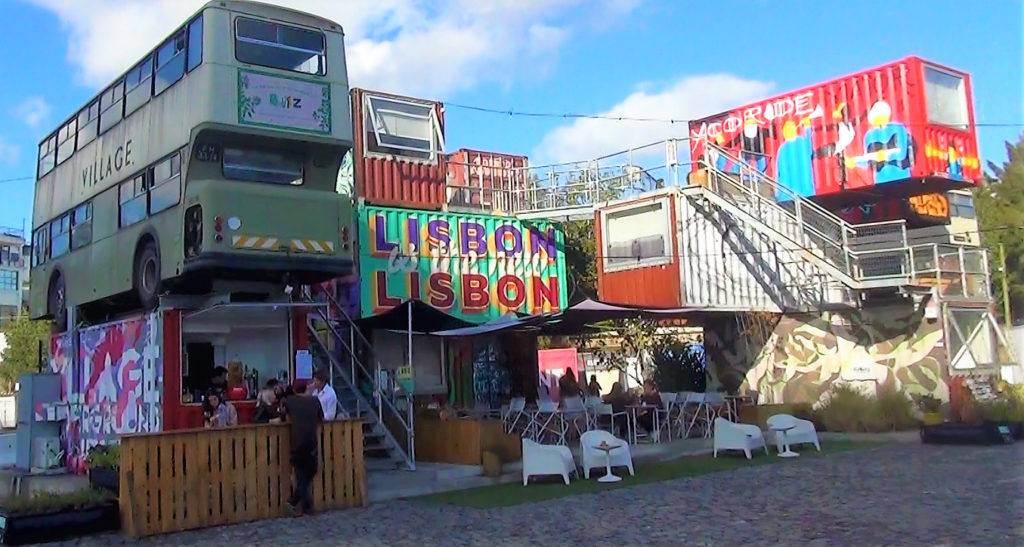 If you want to work a bit on your laptop, but the notes always fly away, write the next best-selling novel or a postcard, then Café Janis is a perfect place.
Super cozy with its few places and lots of plants hanging from the ceiling. My regular place is on the left at the big window to the street, which is opened in summer. Half outside, half inside a great place to procrastinate with a clear conscience.
Since there are not many places, sometimes everything is already occupied. So it's best to drop by in the afternoon, or reserve a breakfast spot beforehand. For 8 or more people, you can also reserve a table in the evening ( hello@janislisboa.com ). Take it as a personal challenge to speakt to 8 people and have a great night together!
Sunset. Shaken, not stirred.
Here are my favorite places to end the evening and enjoy the sunset.
Santuario da Peninha is located just outside Lisbon on a hill at the edge of Sintra.
I have stayed at Lisbon Destination Hostel twice. If you keep your bracelet and show it next time, you will also get a 10 percent discount! The location is great, right down by the water, so you don't have to walk up and down the mountain every day. The hostel is located directly above the Cais do Sodré train station and a supermarket. Luckily you don't hear any of the trains in the room.
From 6 p.m. to 7 p.m. there is free beer and sangria on the roof terrace with pool. The pool is unfortunately only open in the summer months. The picture of the sunset was also taken there. You definitely have something to laugh about here!
Be sure to take the Street Art Tour , super interesting! Even when it was raining it was a lot of fun. We all got on the van and were driven to various graffiti in and outside of Lisbon. João told us the stories behind the Grafittis and designed me a rain cape out of a trash bag. Portuguese creativity!
João's tip for this summer : The The Sumol Summer Festival in Ericeira. Unfortunately, the festival will not take place this year due to corona restrictions, but then next summer!
What did I learn at this hostel?
1. Better put a tempered glass protective film on your mobile phone display before going on vacation. The Lisbon paving stones and cell phones are not a good combination.
2. It does not matter whether the sun is shining, it´s about with who you are traveling with.
What is special about a PARK house? Not much at first glance. There is no sign from the outside that there is a super cool bar on the roof.
Enter the car entrance, turn left and take the elevator to the top. When you are out in the fresh air, turn left again. It was easy, wasn't it? Great view & good music in two rooms.
Closed on Mondays, open Tuesday to Saturday from 1 p.m. to 2 a.m., Sunday 1 p.m. to 8 p.m.
In the Bar da Praia on Azenhas do Mar a DJ plays summer songs and you can sunbathe on a large lounger or hop into the pool to cool off. Great to enjoy the sunset with beer and beats.
Make a stop in Sintra beforehand! A green national park full of castles, palaces and statues. Poets and writers have been visiting this area for centuries to find new inspiration. Even today hippies and artists sell their works there or use the cool area in summer to paint.
Where is your favorite place in Lisbon?