Rooftop bar with bedrooms

If you don't want to climb all the steps to Montmartre in Paris, you can also take the elevator to the 9th floor at the generator hostel at the Saint-Martin Canal. In the elevator is always a flyer with the dates when a DJ plays on the rooftop terrace.
Hier lernst du auf jeden Fall andere Reisende kennen und kannst dir ein Taxi sparen. Dein Bett ist nur zwei Minuten entfernt, wenn du im Hostel schläfst. Aber nicht die Zimmerkarte verschludern, sonst musst du doch oben auf einem Sitzsack übernachten. Alles tipptopp wie in einem Hotel.
Aber … selbst wenn du woanders übernachtest, kannst du dich hochschleichen!
What I learned at this hostel: If you want to blow dry your hair in the room before 12 noon, angry Brazilian women will throw pillows at you. Fortunately, I was not the enemy.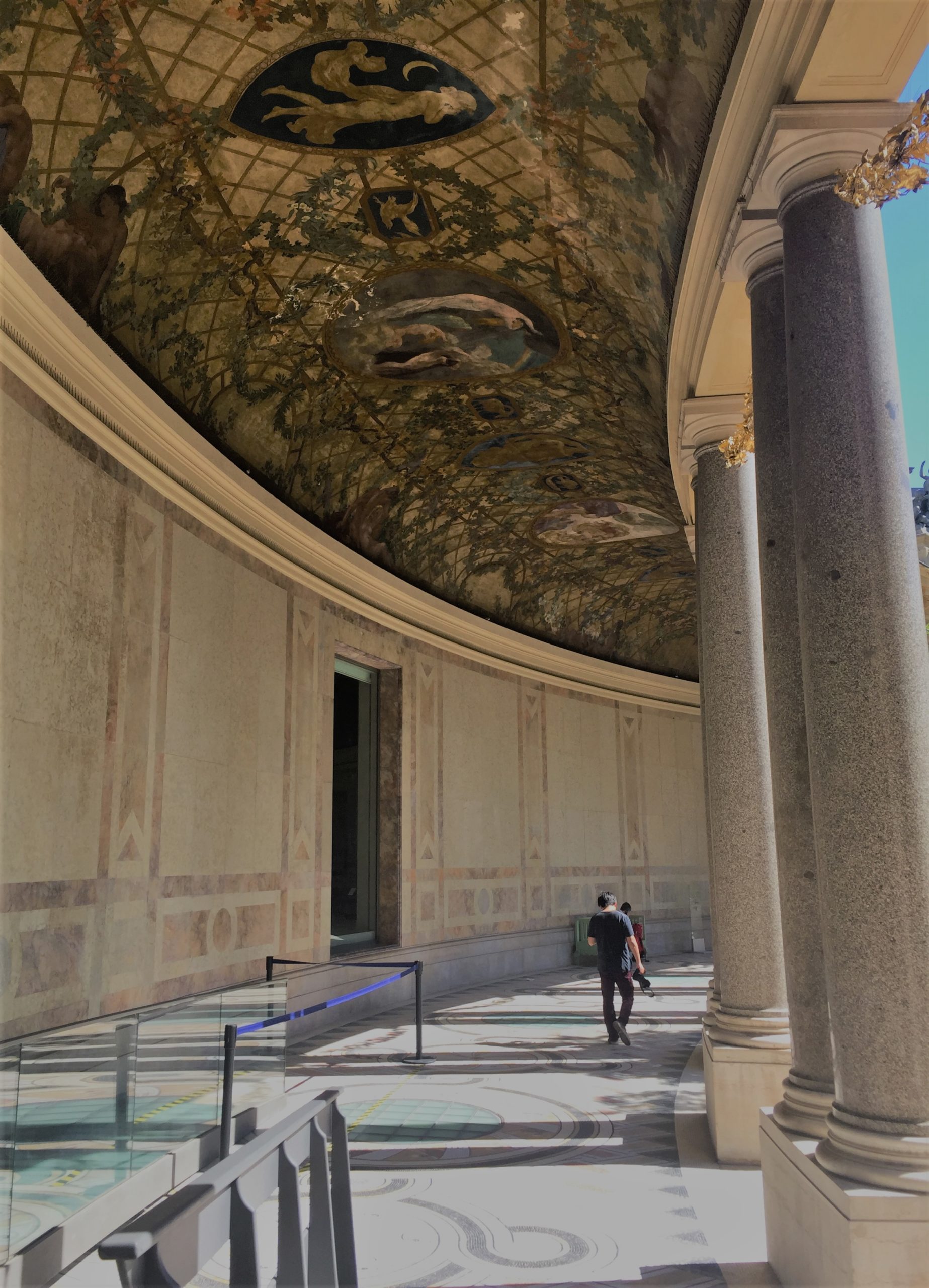 Hier drehen ein paar Fotografen ihre Runden oder sind sie nur wegen des Kuchens gekommen?
In der kleinen, verwilderten Oase höre ich Vögel zwitschern. Es ist vollkommen ruhig, obwohl sich der Innenhof des Museums Petit Palais im Stadtkern von Paris befindet. Im kleinen Palast gibt es Kaffee und Kuchen zu recht günstigen Preisen, weshalb auch die unterschiedlichsten Menschen hier ihre Mittagspause einlegen. Man darf sich aber auch auf die Treppenstufen nebenan setzen und die eigene Butterbrotdose öffnen.
As my face sizzles in the sun, I watch the Parisians leaning against the pillars in suits, unpacking their baguettes, reading a book or creating the next summer hit on the guitar.
"Le meilleur morceau de gâteau s'il vous plaît" I can here from every corner. Or just call "gâteau" (cake).
Oder einfach "gâteau" (Kuchen) rufen. Der Kellner nickt, schaut auf die Torten-Auswahl von heute, guckt wieder zu mir und kommt mit einer Schoko-Torte zurück. Die Franzosen verstehen die Deutschen.
Is that art or would you prefer to mow over it with a lawn mower?
Tipp: Alle Hauptmuseen in Paris wie z. B. der Louvre öffnen sonntags ihre Türen gratis. Das Café ist immer frei zugänglich. Nur bei besonderen Ausstellungen kostet das Petit Palais Eintritt. Audioguides gibt es für 5 Euro (auf Englisch, leider nicht auf Deutsch).
Yoga und kleine Nap-Pause bevor es weiter geht
Bad conscience because you have already eaten the whole pack of macarons that you actually wanted to bring to your best friend !?
Then go to the Park Jardin du Luxembourg ,

There you can:
Einen Powernap einlegen und ein paar kühlende Tropfen des Springbrunnens abbekommen.

burn calories with yoga. Just ask if you can join! The two girls then took me to the pirate bar. ↓

Die besten Macarons kaufen bei Ladurée. Das Lädchen gibt es mehrmals in Paris, aber dieses hier ist meistens nicht so überfüllt und etwas kleiner, so wie Napoleon selbst, 21 Rue Bonaparte.
Das Piratenschiff im Le Comptoir Général ist nicht ganz so einfach zu finden, aber vielleicht siehst du schon ein paar Hinweise auf dem Boden. Am Kanal Saint-Matin versteckt sich die Bar unscheinbar in einer kleinen Gasse hinter einer besprühten Mauer. Nicht davon täuschen lassen! Ich bin bestimmt dreimal daran vorbeigerauscht, bis ich die Hausnummer 80 (Quai de Jemmapes) fand.
Von dem skurrilen Haus hatte mir am Abend zuvor auf der Dachterrasse (Generator Hostel) die Französin Zélia berichtet.
At the end of the aisle, where a lot has already happened, you will find your treasure: old leather jackets, fancy shirts, books, good food and drinks. There are some wine barrels in the ship, which you shouldn't drink all at once. A mixture of restaurant, bar, thrift shop, bookstore, showcases with found things and plants hanging from the ceiling. Ab und an gibt es auch Konzerte, Lesungen, Filmabende oder einen Flohmarkt. Wenn du nicht hier ein skurriles Mitbringsel findest, wo dann!?
Since 10 Years ago this bizarre place existed. From now on 2 € entry for access to the hipster scene. Not much, but well.
Where's your favorite place in Paris?