Hey to all travel, sea and book addicts,
"Learning to surf" has long been on my to-do list. So I booked a week in a surf camp in Portugal and took my first surf lesson. I came out of the water with a big smile and canceled my flight back to Germany. With a few others from the camp, I hitchhiked through Portugal for another four weeks and made stops at various Surf Camps.
In between I wrote down (still doing) the most interesting and bizarre bars, hostels and surf camps that travelers told me about. Why did they find these great places and I didn't !?
I turned my tattered notes into the books: "Free room! A trip to the craziest hotels in the world " (but published in German title "Zimmer frei! Eine Reise zu den verrücktesten Hotels der Welt), my next travel guide for surf camps and now in the blog Vivaverena.com!
On this page I will introduce you to unusual places, accommodations, adventures, bars and cafes.
On this page I will show you unusual places, accommodations, adventures, bars and cafés. I study Media and therefore (maybe just like you) I have just little cash available. Most of it is therefore possible on a small budget and if not, there is just a nice bed and a Tetrapak wine bag-in-box wine (sounds cooler and contains more).
I'm not the best surfer, but I don't mind as long as I'm happy out of the water. In the summer months I work in the Moby Dick Lodge in Portugal, where it feels like my second home. There I take pictures, shoot small videos and have enough time to surf, discover new places and cafés around Lisbon. I'll be back in May, so grab your bag and head to Portugal!
"The best surfer out there is the one having the most fun!"
Warm up with my favorite stewardess Anita
I am also a headstand trainer.
Just joking. I can´t do that.
You can also book me as a Van DJ! I have the best playlist.
Anna Hosteltester No. 2, Mimi & I.
In 2017 I studied in Genova (Italy) for 6 months. This half year full of pesto, espresso and new friends will always be remembered. In the Banano Tsunami (Genova's coolest bar) I got to know the Spanish Catalan Anna. Since then we always meet somewhere in the world at least once a year.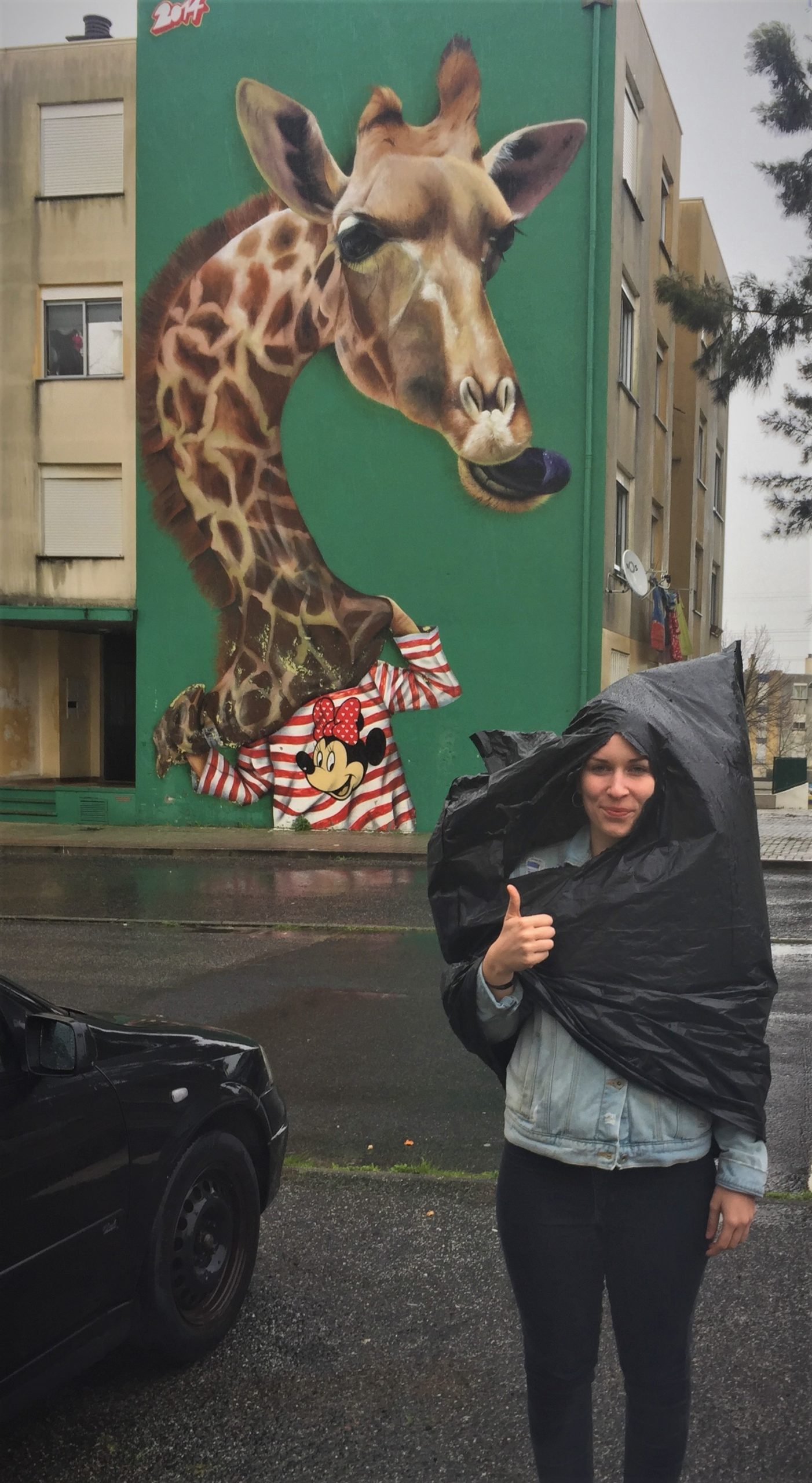 Many roads lead to Rom Amsterdam.

But some detours only make the trip to a real adventure!
I am studying Interdisciplinary Media Sciences in my master at Bielefeld University. For my master project I will visit many surf camps and write a book about it!

In Germany, I also like to stay lazy at home on weekends. That´s why my roommates sometimes call me Granny. I should have called this site Surfinggranny. Otherwise, I do soe random creative stuff.
Even if everything does not always work out on my travels ...

... I try to stay positive!
Once I decided to go to Amsterdam by bike. I told my self, I had cycled to university twice that year, that must be enough training, no? After five hours of riding the bike my cell phone went on strike and I was smart enough not to take another card with me. I asked myself through to a hotel and was invited by the neighbors for a beer. The next day my butt (or was it my head?) hurt so much that I got my bike under my arm and got on the train to Amsterdam.
Als mein Fahrrad dann in Amsterdam gestohlen wurde, war ich ehrlich gesagt nicht böse. Ich holte mir noch eine Portion Poffertjes und kaufte mir ein Zugticket nach Hause.
Vivaverena.com is still under construction.
Thank you for reading the whole text, hope you have fun here!
PS : I'm always happy to receive new tips, whether it's a Surf Camp, fancy cafés or your just the best apple pie recipe!